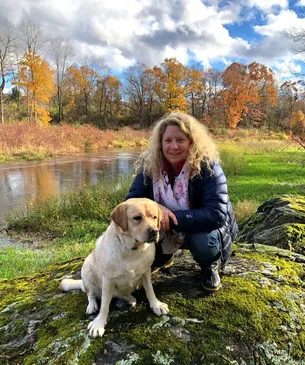 Jennifer Cody, DVM
Dr Jennifer Cody is the owner of Lake Katrine Animal Hospital. She attended Ross University, graduating in 2002, and has been practicing since then as a small animal veterinarian. Dr. Cody is a member of the American Veterinary Association and the New York State Veterinary Medical Society. At Lake Katrine Animal Hospital she handles general wellness visits, internal medicine cases, preforms surgery and dentistry. She lives in the area with her son, five dogs, and three cats. Any spare time is spent hiking with the dogs, camping and soccer games.
Michael Halstead, DVM
Dr. Michael Halstead has been with LKAH since 2001. He did his undergraduate studies at SUNY Binghamton. He graduated from Ross University School of Veterinary Medicine in 1991.
Dr. Halstead is a competitive triathlete and leads training sessions at the YMCA. He and his dog Kai were featured in a story in Runner's World magazine. Dr. Halstead lives in Stone Ridge NY with his wife Shelly and his son Drew.
Jesse Page, DVM
Dr. Jesse Page has been part of the veterinary field since 2003, starting out as an assistant and then as a licensed veterinary technician. She graduated from Purdue University College of Veterinary Medicine in 2013. She has a special interest in internal medicine, feline medicine, and pain management. After looking into alternate options for pain management for one of her patients, she became interested in the field of acupuncture and became certified in veterinary medical acupuncture in 2015. Since becoming certified, she has been fortunate to treat patients with a variety of conditions, and enjoys seeing them respond to the treatment. Planning acupuncture treatments has also inspired her to maximize patient comfort and minimize fear, creating as positive an environment as possible while they are at the hospital. Dr. Page feels that pets are truly part of the family, and looks forward to continuing to provide high quality care for your furry family members.